About TEL-US CALL CENTER
Personal Service … In a Professional Manner!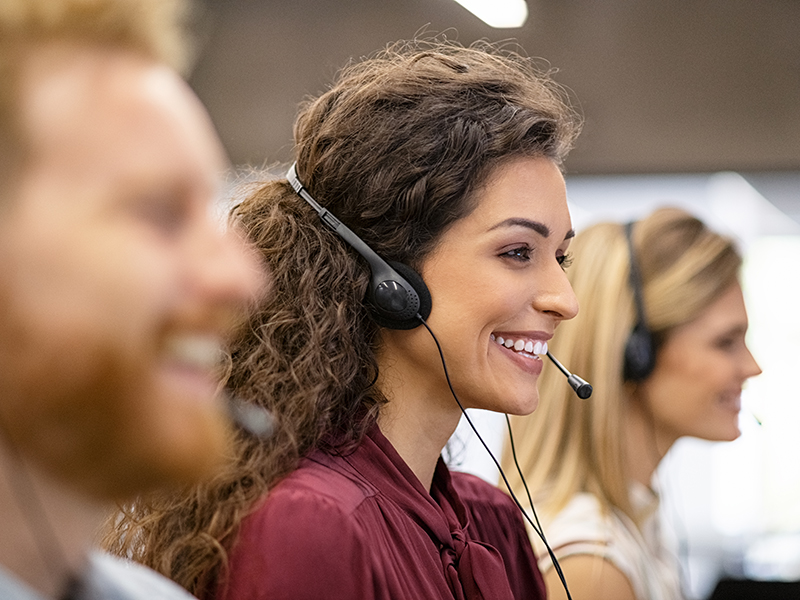 We care about quality, and it shows! Our staff is truly wonderful. Our Agents average 5 years, and our Management team averages 18 years of service to our customers! In today's world, those years of loyalty and dedication in one place is truly unique and should speak volumes about who we are.
We are here to help your callers in a professional manner, with a smile in our voice! Give us a call to let us know more about you and your company, and we'll create the right service for you.
Call Center Agents
Our call center agents undergo rigorous training which makes them the best in the industry. They are extremely competent, professional and courteous. They understand the needs and working of your business which makes your customers believe that they work right in your office. They possess a friendly personality and help your customers feel at ease. Their training process is never finished as they keep evolving and growing with the industry. Their knowledge is up to date. They are skilled and capable of dealing with several call types such as account inquires, customer complaints, support issues, help desk, technical support and order taking. Even the most trying customer will end the call with a smile on his face after speaking with our telephone receptionists. Even the most trying customer will have a hard time finding any faults with our telephone receptionists. You will find that they treat your business like it's their own.
In business since 1979, Tel-Us Call Center offers a variety of inbound call center services customized to suit the needs of its clients. Our well-trained staff of bilingual agents is available 24/7/365. We answer calls for every size company, including general businesses, law firms, medical offices, property management companies, security companies, home health care, and all other types of organizations.
In addition to traditional messages, we handle tier 1 customer service, ad response, order taking, web chat, email response, lead generation, seminar registrations, appointment setting, store locator service, and just about anything our customers need. Whether we utilize the customer's website, access their backend software, or create screens in our own software, each account is unique. Many of our customers take advantage of our Virtual Office – using our prestigious address as their own – a real suite address in Los Angeles – and meeting with their customers in our conference room.
We believe that "Your customers are our customers" and that is why we strive to offer top quality service, every time the phone rings. We spend time with you to learn what you need and deliver service that will make a difference. We know that our services are integral to our clients' business, and our staff is an extension of the people we represent, our customers. Remaining at the forefront of technology is important, and at Tel-Us, we remain open to innovative ideas and stay current with the latest equipment and software available.
We provide you with friendly and efficient people, whose skills come from good hiring, great training and ongoing monitoring of calls for quality. We are bilingual, 24/7/365 (English/Spanish)! We continue to win industry awards, and strive for excellence year in and year out. In addition to participating annually in external evaluations of our call taking abilities, we have been recognized with the "Best of Los Angeles Award" in six consecutive years.
testimonials

What our customers have to say
Having used several answering services with different companies through the years, Tel-Us has exceeded expectations. The majority of our customer response is over the phone and we needed a reliable service to handle the ups and downs of a new direct response company. Tel-Us has had no problem delivering. Additionally, their defining attribute is ...
Ryan Miller

Kumato Labs
You are all so wonderful!!! Many thanks for the wonderful note and for always taking such good care of us!!! Sending our best to all of you!!! Felice & Roger
Felice Freeman

Infectious Awareables
My best decision in my advertisement dollar was to hire Tel-Us to handle my incoming calls and secure my customer service by having someone answer all my calls 24 hours a day. I recommend Tel-Us to anyone who wants to secure a return on their advertising dollar.
Santos Lozoya

Century 21 Community
Tel-Us Answering Service has been working with us since 2001. Their employees are prompt, efficient as well as courteous. It is a pleasure working with them. We look forward to the future with Tel-Us.
– Angela C. Herndon, SUPERVISOR

RECRUITMENT DEPARTMENT
We've been working with Tel-Us since 2002. Stacy, Cheryl and the rest of the crew have been a pleasure to work with and we\'d highly recommend their services to anyone looking for a World Class call center. Tel-Us has always knocked one out of the park for us.
Dave Perron & Brad Sondecker

Prostate Cancer Foundation and Home Run Challenge